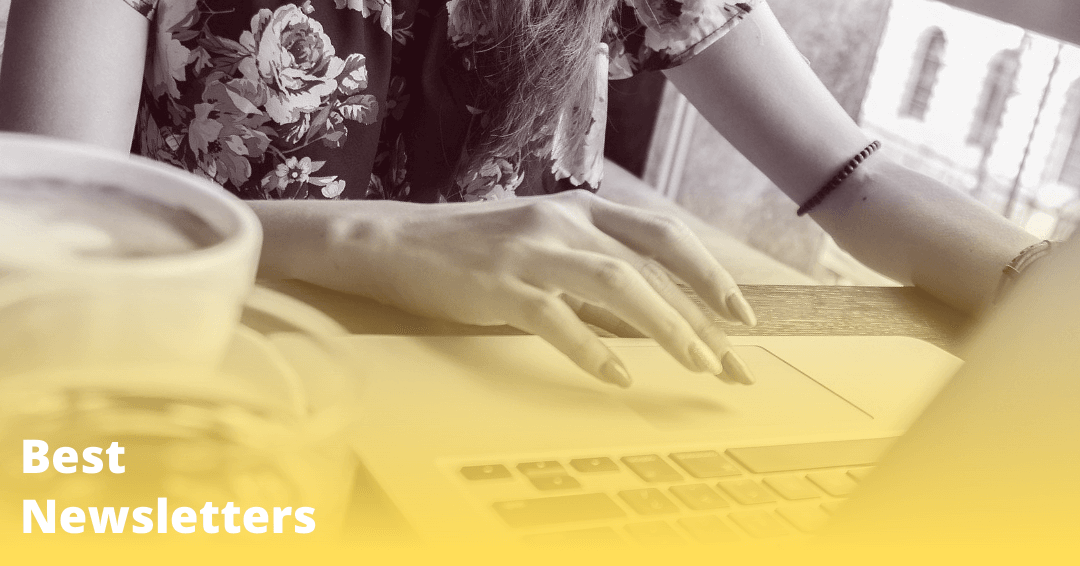 Many bloggers and website operators don't focus enough on their newsletter.
But why? Newsletters are a powerful marketing tool to keep your readership in mind and build a loyal community.
The shyness of the technical and legal pitfalls is often too great, but they don't have to be pitfalls on closer inspection.
And yes, good newsletter tools cost some money.
But many providers provide free tariffs that can easily last for a year or two, despite the reduced range of functions or contact limits.
With their help, you can gain initial experience and successively test how your community receives the newsletter.
We have taken a closer look at the seven best free tools and tariffs for you in this article:
What makes a good newsletter tool?
Before we deal with the individual providers in detail, we would like to give you an overview of what makes a good newsletter tool.
You should not do without any of the functions mentioned:
Responsiveness: Did you know that the majority of all newsletter subscribers today read their emails on a smartphone? It is, therefore, a must to create responsive newsletters that look equally good on smartphones, tablets, and PCs.
Autoresponder: It makes sense to greet new subscribers as part of a welcome campaign (approx. 3 to 5 emails). This should be able to be played out automatically after registration by an autoresponder.
Bounces: If an email is sent to an address that no longer exists, your newsletter tool should generate a so-called "bounce," whereby the contact is inactive.
Legal certainty: For example, an unsubscribe link in every email and double opt-in are mandatory in Germany. Good tools guarantee legal certainty through these functions.
Newsletter template: To don't have to start from scratch with every email, the tool of your choice should provide you with some templates.
Disadvantages of a free newsletter
Newsletter tools in the premium segment, such as B. ActiveCampaign, will quickly cost you three-digit monthly fees if all functions are available.
You will never get the functionality of an expensive premium provider with a free tool or plan.
But, it often doesn't have to be.
Smaller blogs and newcomers to email marketing, in particular, usually do not need many professional functions at all.
Nevertheless, for transparency, we would like to briefly go into the disadvantages of free newsletter tools and tariffs.
These are often limited in terms of contacts or emails per month so that only smaller lists can be managed with them
You will usually not find support with free providers. This is often a problem, especially for beginners.
The functions (e.g., if-then actions or autoresponders) and the number of templates, are often limited.
The best free tools & plans
In the following, we take a closer look at the best-known newsletter tools and show their weaknesses and strengths:
1 CleverReach (Lite)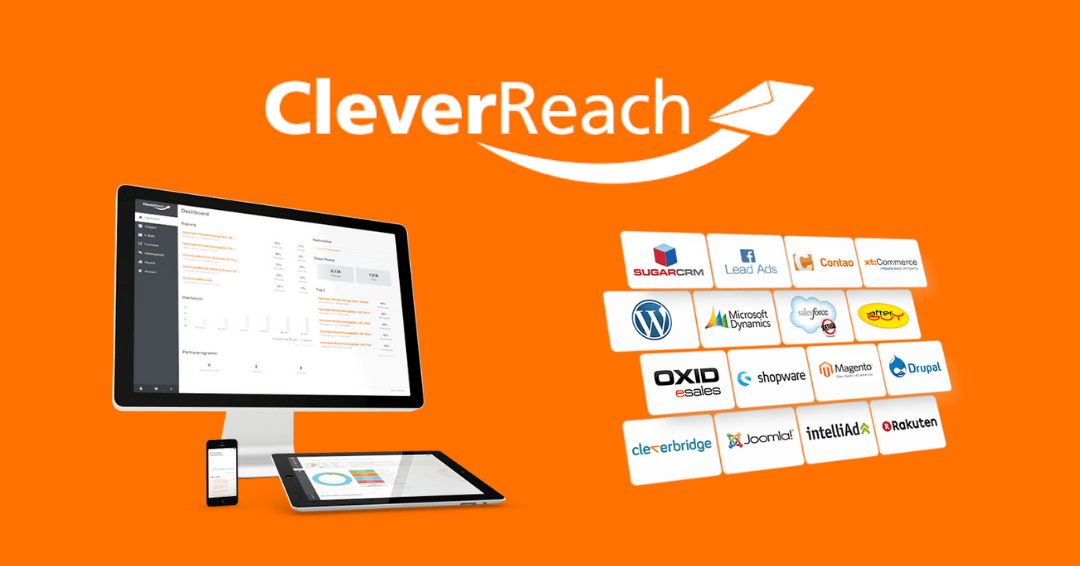 Free contacts: 1,000
Send limit: 250 emails per month
Server location: EU
Despite the free tariff, CleverReach offers a wealth of functions, such as an excellent email editor, autoresponder, and a template library.
There are also many tools for e-commerce and web analytics.
We also like the support that is available to you despite the free tariff and the comprehensive instructions, which are primarily extremely helpful for beginners.
Now we come to the but: The free plan only includes 250 emails per month, which you will probably quickly reach (even with small lists). Thus, the Lite tariff is suitable for the first steps, but not more.
What do the paid plans offer?
CleverReach 's paid tariffs (from 9 euros per month) also unlock functions such as A/B testing or follow-up campaigns but primarily increase the number of emails you can send per month.
The more recipients you have and the larger your email list gets, the more expensive CleverReach will be.
With 2,500 recipients / month, that is 35 euros, with 7,500 recipients / month, 82 euros are due.
advantages
Lots of features in the free plan
Good drag and drop editor
E-commerce and statistics tools included
Very targeted marketing possible
Very competent support
Extensive instructions for beginners
Disadvantages
Price increases with increasing list size
2 Sendinblue (Free)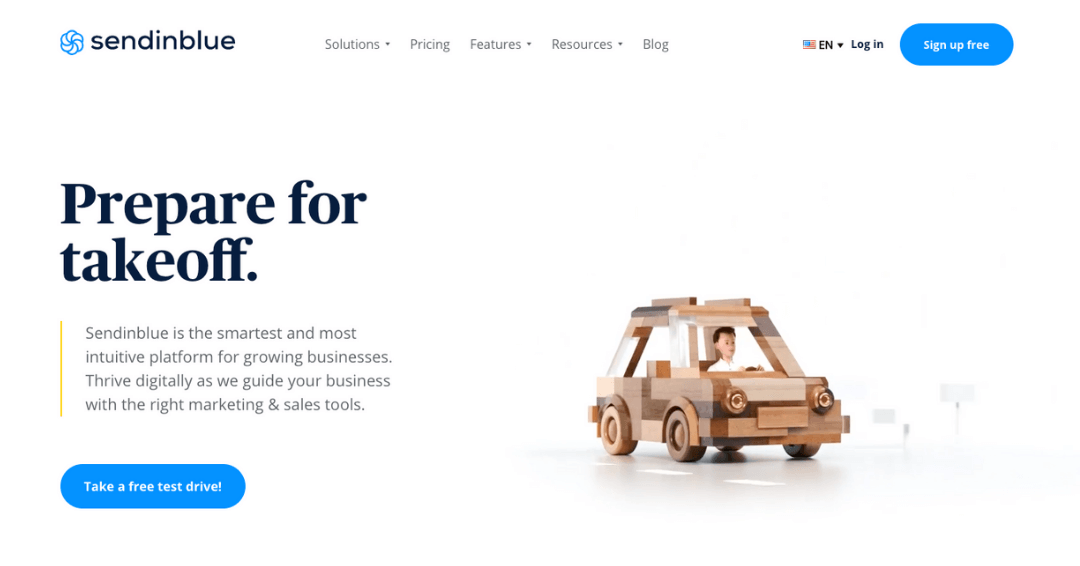 Free contacts: unlimited
Send limit: 300 emails per day
Server location: EU
sendinblue (formerly Newsletter2Go) has one of the best free plans on the market.
A rich range of functions, which even includes placing Facebook ads or an SMS function, is complemented by the possibility of collecting an unlimited number of contacts. This is an absolute rarity among free plans.
Of course, features such as a good email builder, an autoresponder, and analytics are also included.
Even the first targeting functions for your subscribers are available in the free plan.
The sending limit is also limited to 300 emails per day, which unfortunately will be reached quickly.
What do the paid plans offer?
Sendinblue premium tariffs are graded into Lite, Premium, and Enterprise and initially unlock different functions, such as A/B testing or advanced reports.
The sending limit is also increased with paid tariffs, whereby the actual monthly costs depend on the number of emails sent per month.
An example: In the Lite tariff, 20,000 emails per month cost you 19 euros, and 100,000 emails per month cost you 59 euros per month.
advantages
No contact limit in the free plan
Extensive functions
Intuitive email builder
Targeting function already in the Lite plan
Autoresponders and Analytics
Inexpensive premium tariffs
Disadvantages
Shipping limit quickly reached in the free tariff
The price structure in the premium tariffs is somewhat confusing
3 GetResponse (Free)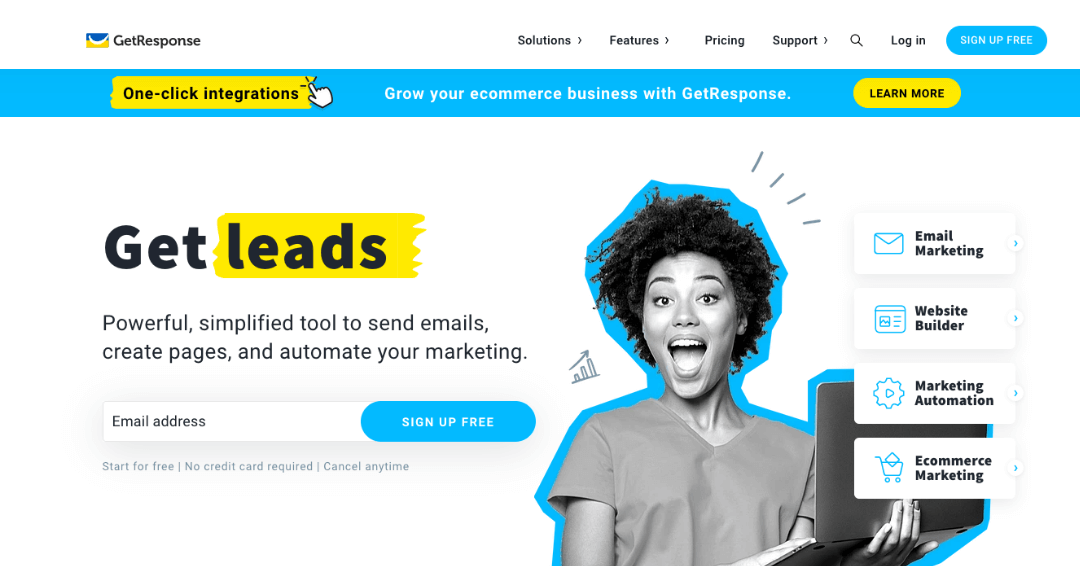 Free contacts: 500
Shipping limit: unlimited
Server location: EU
GetResponse is a all-in-one solution that combines many useful functions in one product.
This means that even though GetResponse is primarily an email marketing tool, you also get a website builder and a landing page editor for free. And that, mind you, is already in the free tariff.
The whole thing is rounded off by a very decent newsletter function, which does not impose a shipping limit on you, but limits you in the contacts. You can create a list with up to 500 contacts in the free plan.
Unfortunately, functions such as an autoresponder already included in other tools in the free plan are entirely missing.
The tool's delivery rates are below the industry average and could be better, are also not satisfactory.
What do the paid plans offer?
GetResponse comes with three premium tariffs, which are staggered according to the range of functions and gradually increase in price with the number of contacts.
If you want to do serious email marketing, you need at least GetResponse Plus. From this tariff, functions such as tagging and advanced automation options are unlocked.
There are even some e-commerce features with the Professional plan.
advantages
No shipping limit in the free plan
Homepage and landing page builder
The price of the premium tariff depends on the number of your contacts
Extensive automation features in the Pro plans
E-commerce tools integrated
Excellent employee management
Disadvantages
Free tariff with limited functionality
Delivery rates could be better
4 MailPoet (WordPress plugin)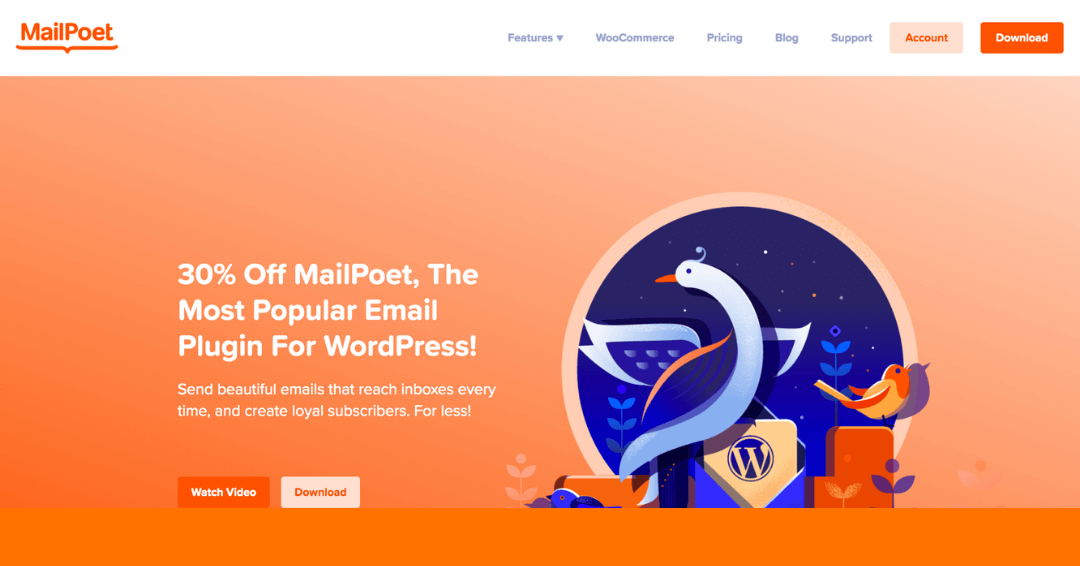 Free contacts: 1,000
Shipping limit: unlimited
Server location: depends on your hoster
MailPoet is a newsletter WordPress plugin managed directly in the backend of the CMS. This makes it very convenient for beginners, but professionals also save themselves unnecessary time here to familiarize themselves with a new environment.
This is also a big plus when it comes to data protection!
We also rate the fact that the newsletter and email campaigns and the registration forms are created directly in the plugin and integrated into the website as very positive.
There is even a WooCommerce integration with pervasive functions and notification options.
Unfortunately, emails cannot yet be sent via a separate server in the free version and are sent directly via WordPress. If the number is higher, this can lead to technical problems.
What do the paid plans offer?
As soon as you have a more extensive list, you can't avoid a premium MailPoet plan. If only because the MailPoet branding is only removed from the premium tariffs.
You can also customize the mail server. For example, you use your own or a MailPoet premium server, which can also handle larger shipping volumes and guarantees high delivery rates.
The range of functions is also gradually increasing, for example, with tagging functions, analytics, or various automation options.
advantages
WordPress plugin, control directly from the backend
Contact forms are also created in the plugin
WooCommerce connection
Very GDPR friendly
Premium tariff with extensive functions
Disadvantages
no own mail server in the free tariff
branding
5 MailChimp (Free)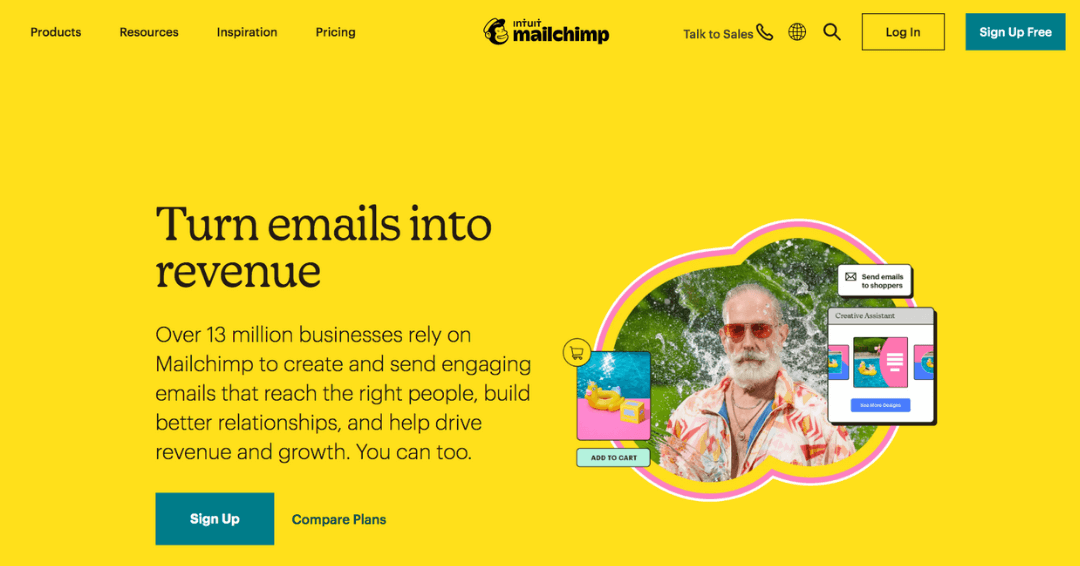 Free contacts: 2,000
Shipping limit: none
Server location: USA
MailChimp is probably the most well-known email marketing provider, which guarantees compatibility with most WordPress plugins and tools.
On the one hand, this is due to the fact that you can already manage an impressive 2,000 contacts with the free tariff and the backend of the tool is also very beginner-friendly.
You get a drag-and-drop email builder, very simple list management, and very clear statistics about your newsletters. Simple automation options are also available.
We also particularly like the landing page feature. Using a live builder, you can create beautiful opt-in pages quickly without any code or programming knowledge. There are even templates.
The excellent range of functions and the clarity make MailChimp an excellent tool for beginners.
On the other hand, the conclusion regarding data protection is less positive: All MailChimp servers are located in the USA.
What do the paid plans offer?
MailChimp comes with three paid plans that gradually enable more features, such as advanced segmentation or automation.
The actual price of the tariff ultimately depends on the number of contacts you have.
advantages
A whopping 2,000 contacts in the free version
Very clear backend
Design emails using drag-and-drop
Compatible with almost all WordPress plugins
Landing page builder including templates
Nice stats
Excellent delivery rates
Disadvantages
Server location in the USA and therefore legal uncertainty when using it
6 MailJet (Free)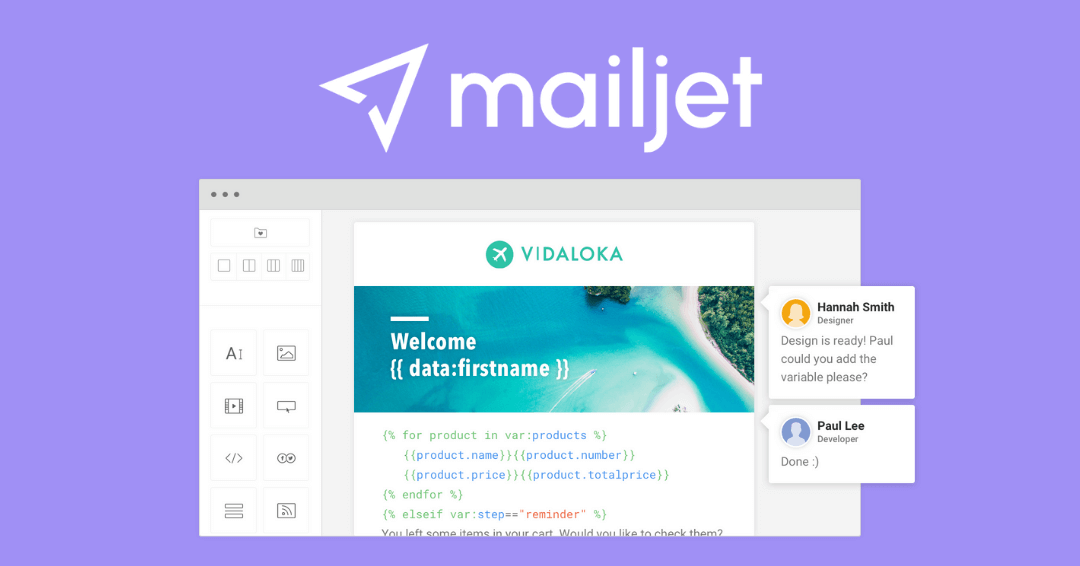 Free contacts: unlimited
Send limit: 6,000 emails per month
Server location: EU
MailJet comes with a great free plan to build a list of any size and send an impressive 6,000 emails per month.
In addition, there is an easy-to-use template builder, extensive statistics, and an autoresponder.
However, at the heart of MailJet are APIs for developers. This is exactly the unique selling point that defines the service: the collaboration of marketers and developers in a single tool.
MailJet is, the right solution for you, especially if several employees are involved in your email marketing.
What do the paid plans offer?
MailJet's premium plans remove branding and unlock features like user segmentation, advanced statistics, or A/B testing.
The price depends on the number of emails sent per month.
advantages
Hardly any limitation in the free tariff
Very good email editor
APIs for developers
Extensive statistics
High-quality marketing functions in the premium plans
Disadvantages
Branding in the free plan
7 MailerLite (Free)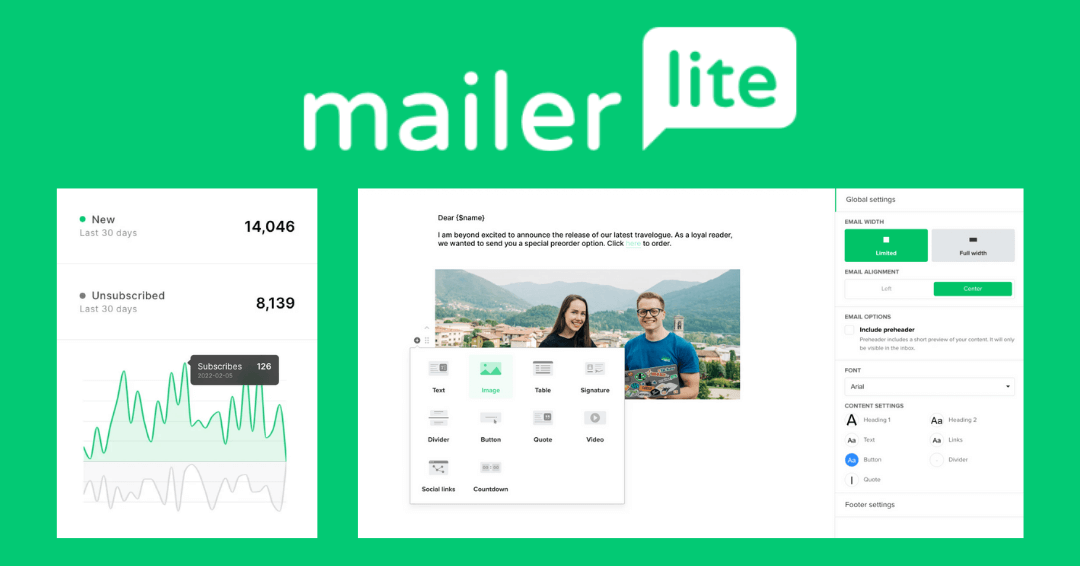 Free contacts: 1,000
Shipping limit: unlimited
Server location: EU
MailerLite is a beginner-friendly alternative, particularly impressive because you can write to your 1,000 free contacts as often as you like per month.
The tool comes with a very decent email builder, even with templates in the premium plans (it cannot be used in the free plan).
Additional features like a landing page editor or login pop-ups for your website are also included.
Unfortunately, the lack of a SPAM check and a newsletter preview function significantly reduce the overall conclusion.
We also find it a pity that MailerLite is only available in English.
What do the paid plans offer?
With one of the paid plans, MailerLite gets great features like auto resend (unopened emails are sent again, ready-made templates, A/B testing, or an HTML editor for your emails.
The price scale depends on the number of contacts but remains within a very fair and moderate range.
advantages
Free tariff with very extensive functions
No sending limit of contacts
Very beginner-friendly backend
High-quality templates (Pro plan)
Landing Page Editor
Extensive statistics
Disadvantages
No SPAM check in the editor
Available in English only
Conclusion
Choosing the right email marketing tool can quickly become overwhelming, especially for inexperienced users.
Changing a provider is relatively easy, thanks to the import-export function. However, to save your time and nerves, we would like to help you with this final list in choosing the right tool:
Bloody beginners: If you are completely unfamiliar with email marketing, then CleverReach is a good choice. Thanks to numerous tutorials and intuitive operation, it is well suited for beginners.
The WordPress all-in-one solution: MailPoet is a great solution for WordPress users as all functions can be found directly in the WordPress backend.
Multiple collaborators: If multiple collaborators are working on your email marketing, you should look at MailJet.
Compatibility: If you work with various tools, then MailChimp can be the right provider, as it is compatible with most third-party providers.